Most small local businesses like yours know you need to be doing Digital advertising to reach your potential customers, yet you may be confused about the best way to get started. Or perhaps you've already tried Digital – but aren't quite sure what you bought, who you bought it from, or feel you didn't get a good return on your investment.  That's where we come in.
At Equity Digital we have a two-step process. First we meet with you to learn about your challenges & goals – and then we educate you about the Digital products we think might best help you reach those goals. We communicate with you in a simple, easy to understand style – with no hype, no jargon & no techno-babble.  If you are interested we then move forward to the next step where we put together a custom-crafted campaign proposal for you that explains the programs we've talked about, the costs associated with those products, and your expected results.
We  won't  even  ask  for  your  business  until  we  have a Plan to help Improve It!
The benefits of working with us?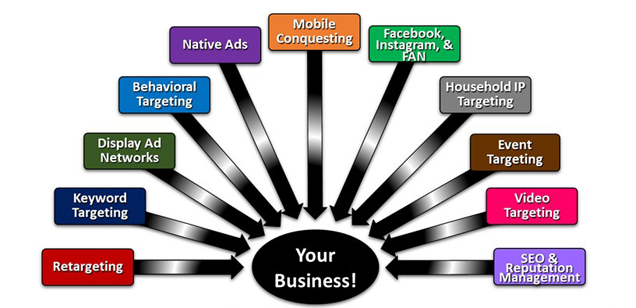 We are South Jersey's largest locally owned-&-operated media group – and your Sales consultant & Digital point person both live and work right here in South Jersey. So we're available to meet with you in-person – your place or ours – at any time.  No 1-800 numbers, no support tickets & no waiting for hours & days to get a question answered!
Our Sales consultants are thoroughly trained on all of our Digital products and will explain them to you without any techno-babble! You'll get your questions answered quickly & clearly so that you understand exactly what you are buying.
Your digital ad campaign will be managed by a highly trained Digital Campaign Manager in New Jersey (a real human – not a computer or robot!) who will continually optimize your campaign to get you the biggest bang for your buck!  You will have a digital team with great expertise at your side working for you locally!
We make digital advertising easy by taking care of all your advertising needs including custom-designing your digital display ads for you at no additional cost!
We make sure you understand exactly what you are buying before you commit by educating you about digital – and we then provide you with in-depth reports about your campaign & will take the time to review them with you.
Why buy digital from a radio group? Because we understand how to market local businesses in South Jersey and have the track record to back it up. The same is true with digital. Meet with us and hear about how we have helped other businesses be successful with Digital advertising.
Equity Digital is a division of Equity Communications in Pleasantville which includes nine locally owned-&-operated radio stations. You may be one of the thousands of local businesses that have already enjoyed great success with us during the last two decades. If our radio promotions and commercials have convinced some of our over 280,000 weekly listeners to become your customers, great!  Now we invite you to deepen your engagement with the market by utilize our innovative Digital advertising tools to stay available, in touch, relevant and visible with your current customers & best prospects!
We know our custom-crafted hyper-local approach is working because we have an unprecedented 75% renewal rate with our digital campaigns! Our digital campaigns work as hard as you do!  These great results – combined with unparalleled local customer service – have combined to make us South Jersey's best-in-class local digital resource and partner. Come join us!